Hector Ortiz y El Combo Tropical Latino
Every Saturday night at Club Soraya Vocalist and Percussionist Hector Ortiz leads his 10-piece band, El Combo Tropical Latino featuring artist from Puerto Rico, The Domincan Republic and Alaska locals. The club is packed with ardent dancers burning up Bachata, Merengue, Salsa and Cumbia Grooves. It is a gathering place for Anchorage's large Latino Community as well as lovers of Latin music and Dance from all of Anchorage's diverse population.
Combo Tropical Latino was founded in the early 1990's. When piano player Pedro Ramires from El salvador and Bass Player Manuel Ramos from Honduras joined vocalist and percussionist Hector J. Ortiz from Puerto Rico and pecussionist Richard Nunes. Hector originally lead the large thirteen piece orchestra called La Conexion Latina. Due to band members' personal and family commitments, the large band could not commit to playing more than once a month.

Hector's need to fullfil his desire to play more latin music and public demand were the main reason for his alliance with Pedro Ramirez and Manuel Ramos. The three became the core for what is now El Combo Tropical Latino. Unfortunately Manuel Ramos was lost in a tragic fatal traffic accident. Local bass player Bob Andrews and Thomas Mosquete from the Dominican Republic have been filling this position since.

Local horn players, (Trumpet Players Pat Owens, Kerry Maule, Mark and Linda Green, Sax Players Behring Stephens, Aaron Cummings, Brian Vankirk , Don Cosgrove along with Trombone Players Jesse Nolen, Paul Frederics and George Mancini) comprise the combo's horn section. Even though they are not Latinos, they have comitted to playing Latin music and their efforts are greatly appreciated. Hector says that the availability of these horn players, who alternate and substitute for each other frequently, play a great role in the band's continuity. Percussionists Edwin Cruz, Hector Ortiz and Eduardo Colon from Puerto Rico and Jose (Payano) Salcedo from the Domican Republic make up the percussion section.

Presently, Hector fronts the band as Lead Vocalist and conga player and conducts the band's business. Pedro Ramirez's has vast experience in all latin music genres plays keyboards, sings and arranges and directs all of the music for the combo. Nancy Diaz from New York City born of Puerto Rican parents is an exellent vocalist. Salsa, Merengue, Cumbia, Bachata are the band's forte. However, Mexican music, some jazz and music is also paid by the combo.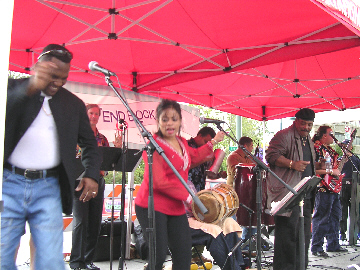 BOOKING-
El Combo Troopical Latino are available for outdoor festivals, weddings, company parties, state fairs and other type functions.

For more information about bookings please contact
Hector Ortiz (907) 563-6940.
Email Hector Ortiz at